You might have heard about this recipe before, and I really encourage you to try it. They taste even better than they sound. It is one of the meals you want to cook twice as much as you need as it is a great lunch on the go, healthy snack or a good dinner for the entire family. They last in the fridge for 3-5 days and they are also good for freezing, so when you get home really late from work, you can just fix a quick salad and warm them up a little and a great healthy filling dinner is done- all within 10 minutes. You also don't have to stick strictly to the recipe- just use whatever leftovers you have in the fridge! Add feta cheese, parmesan, carrots or peas. Serve with a salad, potato gratin, as a side to a stew or a warm veggie bowl. They taste amazing in a burger bun.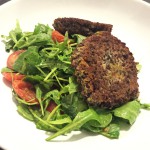 Makes about 10 burgers
Ingredients:
2 cups (470 g) uncooked quinoa
4 eggs
1/2 tbsp sea salt
1 onion, finely chopped
3 garlic cloves
4 cups (400 g) fresh kale, chopped
handful fresh thyme
fresh ground pepper
coconut oil (olive oil/ butter) for frying
Cook the quinoa: Place 4 cups / 1 l water, rinsed quinoa and a pinch of sea salt in a saucepan. Bring to a boil, lower the heat to a bare simmer and gently cook for about 15 minutes (good way to see when the quinoa is ready is to wait until see small tails on the quinoa seeds) Set aside to cool.
In a large mixing bowl, place cooked quinoa, eggs, chopped kale, onion, garlic, thyme, salt and pepper. Combine until all is mixed and place in the fridge to set for 30 minutes.
Take out the mixture and form about 10 burgers. Heat the oil in a frying pan. Add the burgers and fry for about 3 minutes on each side (until golden brown). Serve with arugula salad The patties keep for 3-5 days in the fridge and freezes well.