I'm sure you all know steak tartare – either it's French or Italian version (well, for those who don't, we will talk about this later, don't worry :). Carne cruda is similar- raw beef with just a few ingredients to make it taste like heaven. The difference is in the cuts- to make carne cruda takes about 5-10 minutes and it is because you just take a sharp knife, meat and cut it quickly in rough pieces. It is absolutely crucial for this recipe to work to use the highest quality beef,- grass-fed, organic, from a good butcher or farm you know. Remember, you are going to eat it raw. You want to make sure you won't get food-poisoned. Use either sirloin or tenderloin. These two cuts are tender and lean, yet flavorful. It has to be soft and yummy, you don't want your carne cruda taste like chewing gum…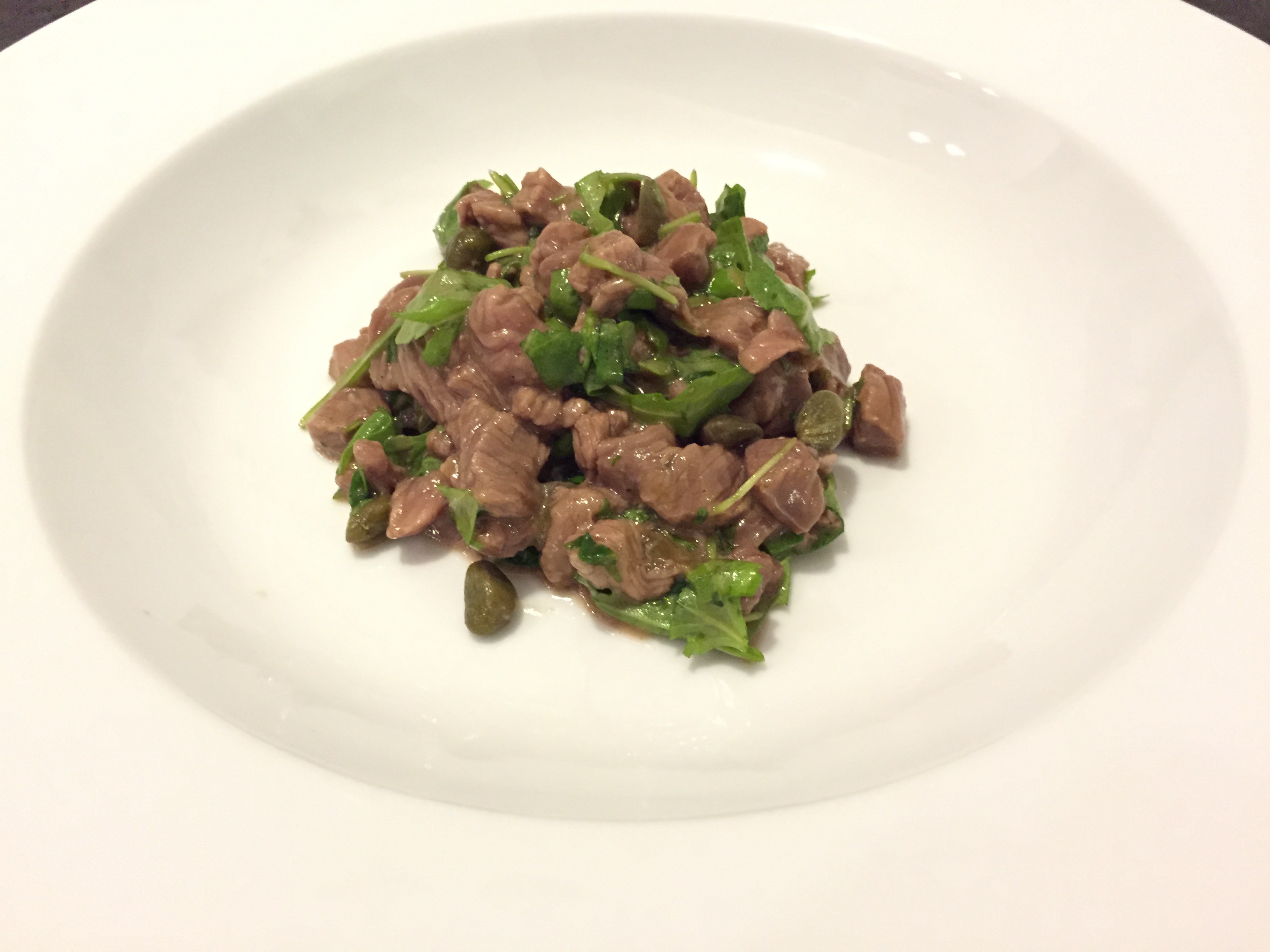 INGREDIENTS:
450g (1 pound) lean beef tenderloin or sirloin
½ cup capers
huge handful of arugula
juice of 1 lemon
75 ml (1/3)cup extra virgin olive oil
1 clove garlic, finely chopped
finely ground pepper
1 tsp coarse sea salt
INSTRUCTIONS:
First of all, make sure your beef is well chilled. Then clean the meat (trim any pieces of fat or skin) and cut it into 0.5 cm (1/4") cubes. Place it in a bowl and add all remaining ingredients. Stir it well and massage it into the meat- with love and care. Trust me, it is important part of the final taste.
Serve with a lemon wedge and toasted gluten-free bread on side and drizzled with olive oil. Serves about 6 as a starter or 4 as a main dish.
Tip: If you don't like very strong garlic taste, try garlic-infused olive oil: A day before preparing the carne cruda, peel the clove of garlic and marinate it in the olive oil you are going to use. It gives you very light and soft garlic aroma but without the spiciness.