This carrot soup is creamy, satisfying and , gluten-free, vegan, vegetarian…. oh, and it takes about 30 minutes from start to finish. It is simple to make, yet feels complex and bold in flavor. It is perfect filling healthy food for a cold winter evening (or afternoon, basically- it is great any time of the day :). And it is healthy. Your insides will totally throw a parade in your honor.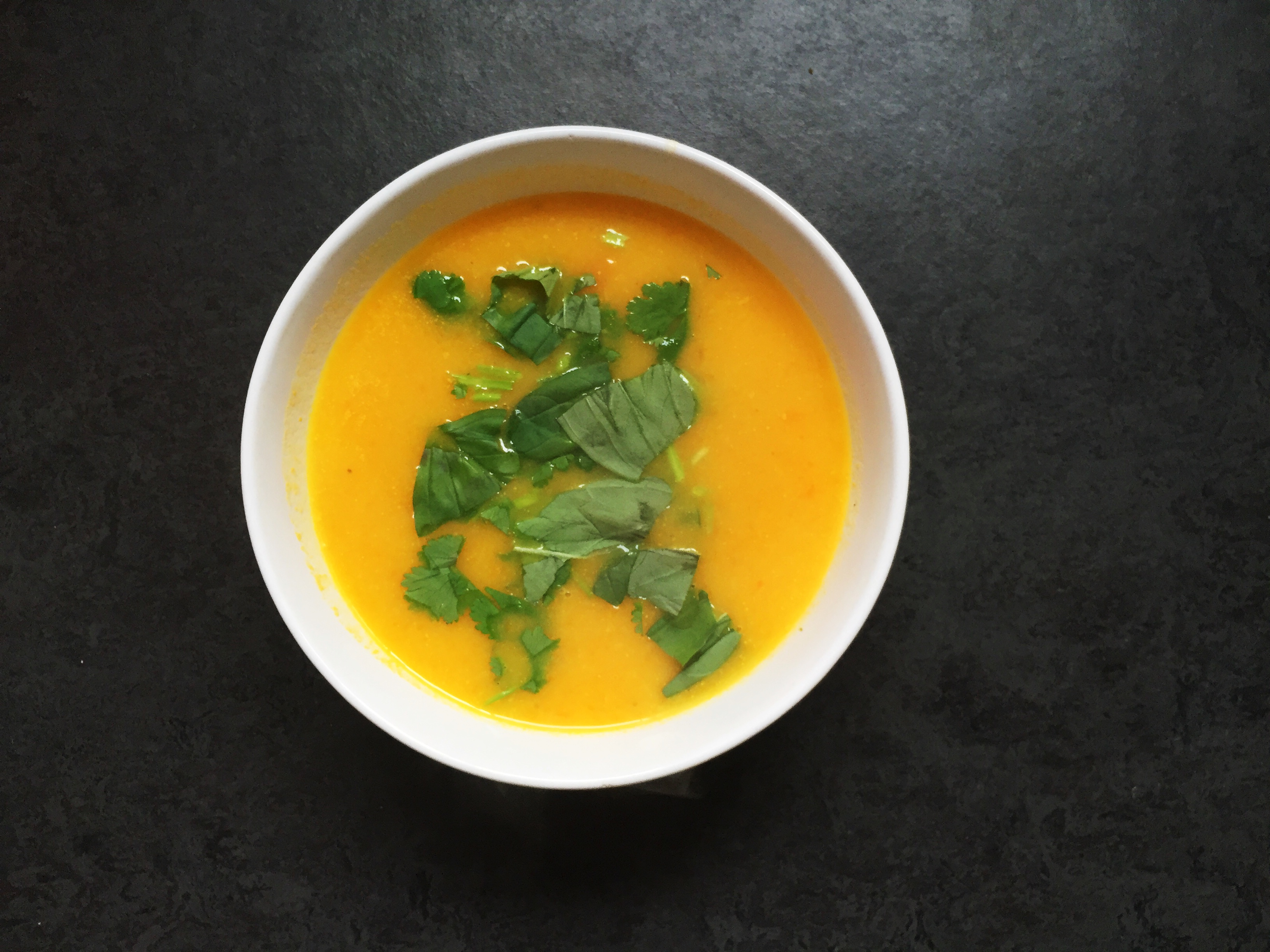 Serves 6-8
Ingredients:
8 middle-sized carrots, roughly chopped
1 onion, chopped
4 cups (950 ml) chicken or vegetable broth
1 lemongrass stalks (white part only)
2 tablespoons fresh ginger root
2 spoons coconut oil
400 ml (1 3/4 cups) coconut milk
orange juice from 1 orange
fresh cilantro
fresh thai basil
1 fresh red chilli pepper (or to taste, it depends on how spicy you want your soup to be)
Add ginger and lemongrass to the mortar, then holding it steady with one hand, bash, crush or grind it with the pestle.
Heat the coconut oil in a large soup pot. Add the crushed ginger, lemongrass, and chopped onion and fry it for about a minute. Add the chilli pepper (chopped, you might want to take out the most spicy part- the seeds). Then add the carrots and fry for about 5 more minutes. Pour in the stock and coconut milk. Put a lid on the pot and cook until the carrots are softened (it takes about 10-15 minutes.
Carefully blend the soup with a hand blender and puree until smooth. Add the orange juice. Season with salt, pepper. Let it simmer for another 5 minutes. Garnish with fresh cilantro and thai basil.